On Saturday, January 5, 2013 Winnovation will kick off its ninth robotics season. FIRST will announce this year's game to all of the teams during a webcast that morning; we'll get our kit of parts and start planning our game strategy and robot design that afternoon. Family, friends, and sponsors are invited to join us from 9:30am - 11am in the Winnebago High School cafetorium to watch the webcast and find out the details with us.
If you'd like to watch at home, NASA will broadcast over the internet at
http://www.usfirst.org/roboticsprograms/frc/kickoff
or via the NASA TV channel on satellite or cable television.
As usual this year's kickoff promises to be full of surprises - including the brand new game!
Special to team families
-
sign up for daily meals and shop supervision will be done online this year via SignUp Genius! Benefits of this include receive email reminders, request a "swap" if you have a conflict, share with other family members who might want to help out, see what others are bringing for food. To easily find our sign up lists, visit the links above or visit http://www.signupgenius.com/ and "find a sign up" using our email at team1625@gmail.com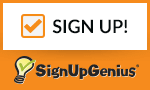 Questions? Contact Polly Kahler or email team1625@gmail.com. You don't need to sign up for an account, but if you do there are additional reminder options for text messages, etc.